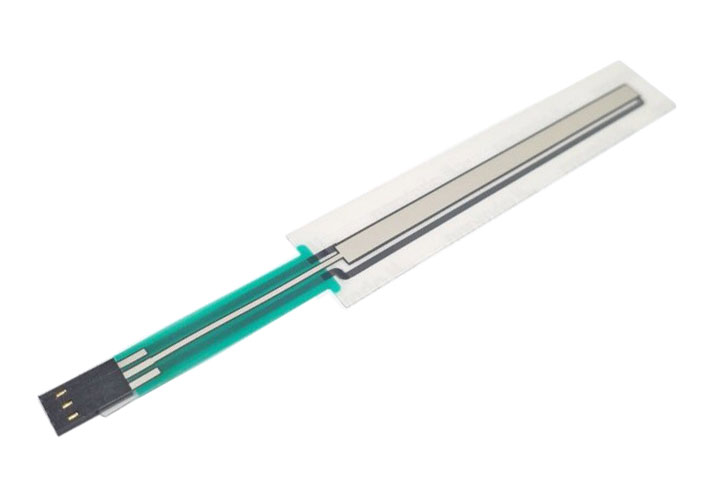 Foil sensors are an alternative to the classic potentiometers with housing. They are used as voltage dividers and consist of several foil layers, which are separated from each other by a circulating spacer. As standard, the foil potentiometers are available as rotary and translatory elements. Due to their design, these potentiometric elements already have a protection class of IP54 in the basic version.
Contact is made to the resistive track by pressing a slider onto the foil. The customer can tap the resistance value through the connections. We recommend a spring-loaded pressure piece with a plastic ball as a slider for the foil version. This enables optimum use of the service life.
In addition to foil material, we offer versions with FR4 base material, which is familiar from printed circuit board (PCB) production. This completes the wide range of properties of the foil potentiometer. The use of FR4 increases the stability of the element and the variability of the connections.
Customer-specific requirements can also be represented in the designs. This applies to length, angle, shape, connection range or also additional functions such as pulse switching points.
A special feature is the width for linear elements. The standard width is 22 mm. Common sensors are reduced to a width of 10-13 mm. With our foil potentiometers, a width of 9 mm is also possible.
As standard, the foil potentiometer is available with an effective area of 50-500 mm. Shorter paths are also possible on customer request. Rotative foil potentiometers are available from an outer diameter of approx. 40 mm. There is already a range of available standard measuring angles.
As the sensors are very flat (from 0.5 mm), these potentiometers are an ideal addition to our product range, which also represents a cost-optimised alternative, especially in confined installation conditions.
Are you looking for individual solutions?
Do you have any questions?
Would you like to send us an enquiry?